USA Today Review! These Pods Add Vitamins to Top Water - But Is It Tasty and Effective?
Only 1 in 10 Americans meets the recommended daily intake of fruits and vegetables and only 25% are adequately hydrated on any given day. Is this you? 
The data clearly shows a need for a solution that can help combat dehydration and fill nutrition gaps.
While a balanced diet with plenty of variety is optimal, not eating enough produce means we miss out on key nutrients (like potassium and vitamin C), as well as flavonoids, or plant compounds that have anti-oxidative, anti-inflammatory, and even anti-cancer properties.
Dehydration and nutritional gaps can leave us feeling sluggish and have a negative effect on the skin's appearance—it can even make us more susceptible to illness.
Since we can all use a little help in the nutrition and hydration department, we were excited to learn about Vitapod—an innovative system that helps people fill key nutrition and hydration gaps with very little effort, even while on the go.
Aptly called Vitapod Go, this beverage system claims to help people feel more energized, maintain their hydration, improve skin's appearance, and more.
I'm a registered dietitian, so this particularly intrigued me. Here's what I thought when I tried it.
What is Vitapod?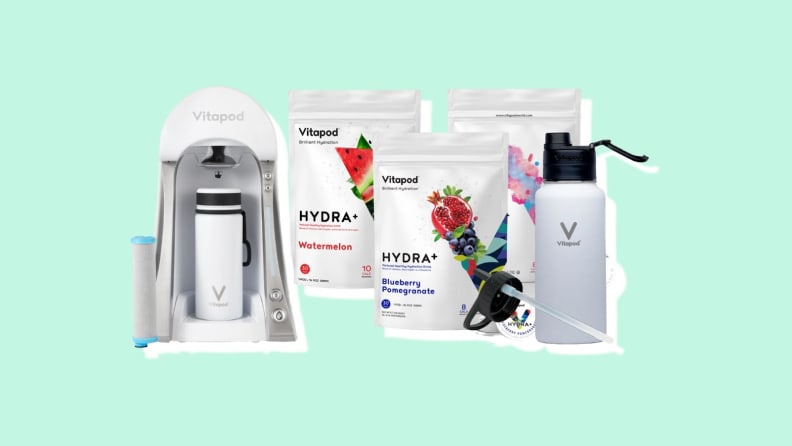 This system transforms tap water into a vitamin and nutrient-infused beverage in seconds. There is a countertop machine for daily in-home use, and the Vitapod Go, which we tested.
The Vitapod hydration system aims to help people avoid sugary drinks that are loaded with empty calories and eliminate plastic bottles that leave a large carbon footprint.
Vitapod's unique water bottle has a "go lid" that opens the pod when the lid is screwed into place. Simply fill your Vitapod water bottle, select your pod, insert your pod in the Vitapod Drink-thru Lid, twist, shake and drink.
The variety of recyclable pods unleash delicious flavors (like pineapple coconut, raspberry hibiscus, blueberry pomegranate, and even cotton candy) with no added sugars or anything artificial.
In addition to the variety of flavors, there are Vitapod pods that focus on certain health goals. Some of these include:
Hydra+ Lemon-Lime, which includes a uniquely hydrating mix of electrolytes, essential vitamins, and minerals (including A, C, E, and D, calcium, magnesium, and potassium) and powerful plant-based antioxidants. It also fuels the body with flavonoids from decaffeinated green tea extract.
Beauty+ Raspberry Hibiscus is made with a unique blend of antioxidants, collagen, vitamins, and minerals. It includes nutrients to maintain a youthful appearance and reduce fine lines and wrinkles. (This is the flavor that I tested.)
Immunity+ Blackberry Mint is formulated with bilberry extract, isoquercetin, green tea extract and a unique mineral blend to bolster the immune system.
Each pod may vary in the health focus that it tackles, but each is consistent with providing electrolytes like magnesium, calcium, and potassium to help support cellular hydration, since the body requires these electrolytes to help maintain a proper balance of fluid both inside and outside of the cells.
The pods also contain polyphenols, aka plant compounds that support our overall health. Since most of us are not eating enough plant-based foods, we are unlikely to be consuming enough polyphenols.
Vitapod pods are also available in varieties that support energy levels, athletic performance, and more, and there are many flavors available that extend beyond the ones listed above.
How we tested Vitapod Go
As a registered dietitian and busy mom, I look for ways to stay healthy that fit easily into my daily life.
I tried the Vitapod Go with Beauty+ Raspberry Hibiscus pods for 30 days, because I was intrigued by the claims associated with these pods, including that they may reduce fine lines and wrinkles.
I certainly have wrinkles, earned from caring for my kids, but I wanted to see if the ingredients could actually make a difference. Additionally, thanks to years of baking in the sun without SPF, my sun spots could use a little more lightening.
I was willing to put my own skin to the test to see if drinking these pods every day could transform my skin, or if I was being sucked into some creative marketing.
Every day, I consumed the pod-infused contents of an entire Vitapod water bottle. The drink was created by following the package instructions and the entire process took less than 60 seconds.
What we like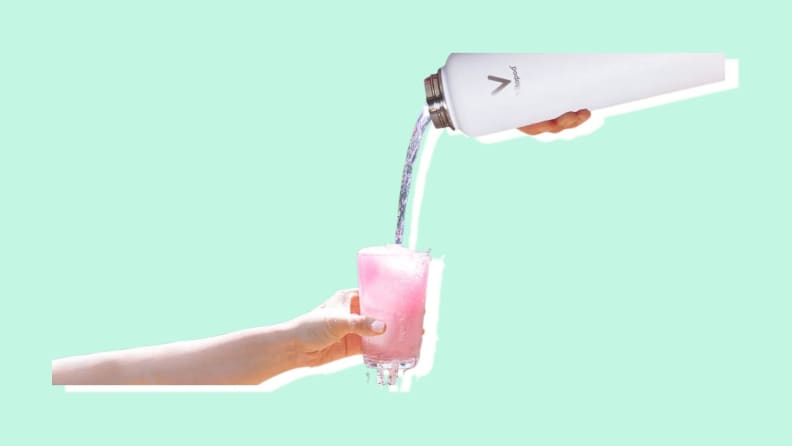 The ingredients are science-backed
Many similar items on the market claim to support certain aspects of our appearance. But the ingredients used in the Beauty+ pods truly have some science to back up their use.
From the vitamin C that supports collagen synthesis to the bovine collagen that may delay skin aging, there are many ingredients included in this product that are truly evidence-based solutions for common beauty-related concerns. The Vitapod Beauty+ pods don't provide 100% of the RDA of vitamins A, D, or E. Additionally, calcium, magnesium, zinc and selenium are provided at quantities well below the RDA.
Since this product is meant to supplement a diet and not provide all of our nutritional needs every day, drinking these in addition to consuming a balanced diet and/or taking a multivitamin may be the missing link people need to actually consume the recommended amounts of these key nutrients.
And after 30 days, I can honestly say that I noticed a slight difference in my skin. No, my forehead wasn't as smooth as it would be after a Botox injection, and my skin wasn't as clear as a porcelain doll's.
But my skin did look brighter and more radiant than it had a month earlier. Whether it was due to the sheer fact that I was drinking more water or if it was truly because of the ingredients is not clear. But either way, I was happy with the results.
The pods are made with quality ingredients and no added sugar
Some hydration or beauty drinks can contain questionable ingredients, or functional ingredients in low quantities.
Vitapod Beauty+ only contains 10 calories per pod and it offers ingredients like bovine collagen to support the skin's elasticity, and flavonoids and zinc, which may help revitalize skin, improve radiance, and reduce hyperpigmentation.
They also contain electrolytes to help promote cellular hydration. It is packed with biotin to support nail and hair health, and it has natural botanical ingredients like pomegranate fruit powder and cranberry fruit powder.
The formulation is also dairy free, gluten free, and soy free. It doesn't use any ingredients made with GMOs.
Using Vitapod motivated me to drink more water
Having a hydrating solution that tastes good and promises to grant me beautiful skin, hair, and nails was all I needed to actually drink the contents of my water bottle every day.
The ease of use and the taste resulted in me actually committing to my hydration goals, instead of being left with a full bottle of liquid at the end of the day like I have done in the past.
I did see some improvement in my skin texture after 30 days of drinking it. Whether these results were due to me simply being more hydrated or thanks to the ingredients included in these pods is not clear. But I will continue drinking a pod every day because I like what I am seeing in the mirror.
The pods are recyclable
Like many people, I try to reduce use of single-serving plastic products and minimize the trash that I put into landfills. The Vitapod Go system offers a nice solution for those who are focused on supporting the environment, as it doesn't lean on disposable bottles, instead allowing people to use a refillable water bottle to create an infusion.
Not only does each pod contain 90% less plastic than one single-use plastic bottle, but by partnering with Plastic Bank, the brand has stopped 5 million single-use plastic bottles from entering our oceans, according to the Vitapod website.
Bonus: Studies show powder tubs lose nutrients as they sit on your shelf after opening. By creating the seal on the pod, Vitapod is able to keep the nutrients locked in for a fresh and nutritious drink anytime, anywhere.
The system is easy to use
Using the Vitapod Go system is incredibly easy to do. There are no messy measurements needed and no plugs or electronics to use. Simply twist open the pod inside the bottle, shake, and drink. It doesn't get much easier than that.
The drink tastes great without being too sweet
A drink with no added sugars can sometimes taste questionable at best. But the Vitapod Beauty+ pods offer a raspberry hibiscus flavor that isn't too sweet or too tart.
Bottom line? I actually enjoyed drinking this beverage, which isn't always the case when it comes to functional drinks like these. 
What we don't like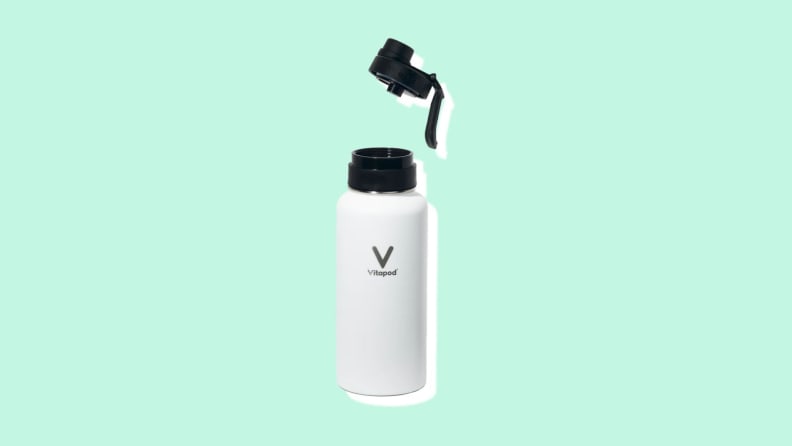 A few small things could improve the drinking experience
The bottle that comes with the system is a bit heavy and is too large to fit into the standard-size cup holder in my car.
Also, when you want to drink out of a straw, you need to switch lids (the bottle comes with both), which can be cumbersome and then requires a place to store the unused lid.
Should you buy Vitapod Go?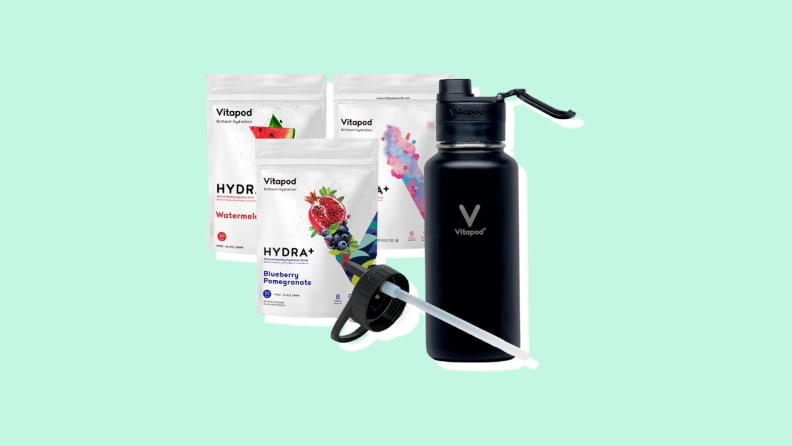 Yes, if you're looking for better hydration with electrolyte or beauty-supporting nutrients
If you are looking for a hydration solution that goes beyond ho-hum water and offers electrolytes to support fluid balance, natural flavor to add some excitement to your drinking experience, and ingredients to support specific health goals, then Vitapod is absolutely worth it.
Unlike Gatorade or Pedialyte, this drink is free from artificial colors and flavors. And it is formulated with plant compounds and unique ingredients not found in the typical hydration solution (like the collagen peptides that are found in the Beauty+ pods).
If you find yourself falling short when it comes to consuming enough beauty-supporting nutrients and ingredients (like collagen or vitamin C), leaning on this product may offer some benefit. After drinking the Beauty+ pods for 30 days, I felt more hydrated, my skin looked more radiant, and I know that my body was provided with certain nutrients that I otherwise didn't get with my typical dietary habits.
While we didn't test the claims of any other Vitapod flavor options, the ingredients are backed by science and solid nutrition information.
With most pods ending up costing less per serving with a subscription than sports drinks purchased at the grocery store, it is easy to see how this system can be much more cost-effective. Many options cost less than $1 per serving. The Beauty+ starter kit, which includes 30 Beauty+ pods, a premium grade 18-8 stainless steel vacuum insulated bottle, and a drink-thru lid costs about $60.
A regular 30-day supply of the Beauty+ pods costs $56, but if you subscribe for auto-shipment the 30-day supply cost reduces by 20% to $45. That's less than $1.50 per serving, while Vitamin Water typically rings up around $1.80 per bottle if you buy in bulk—but then you have to recycle all those plastic bottles.
In addition to saving money over pre-made drinks, you get a higher quality product and also save a lot of plastic—a win for the wallet, body, and environment.
---